Jouw museum: vertellen, luisteren en vragen stellen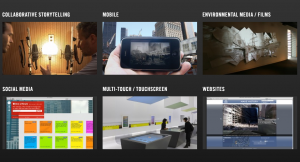 Local Projects  is een ontwerp bureau uit New York met een aantal indrukwekkende interactieve multimediale tentoonstellingen in hun portfolio. Via een TED presentatie vertelt Jake Barton over hun werkwijze. 9/11 Memorial Museum, Cleveland Museum of Art en Storycorps komen als voorbeelden voorbij.
"Its actually not really about the stories that are being told, It's about listening and it's about the questions that you get to ask. Questions that you may not have permission to on any other day." 
Volgens Barton draait het allemaal om conversatie en luisteren. Dat zijn de elementen die participatieprojecten tot een succes maken. Dit is wat activeert. Bezoekers van een museum zouden zichzelf niet meer een bezoekers moeten voelen, maar onderdeel worden van de tentoonstelling door echt bij te dragen. Uit zijn voorbeelden blijkt dat, als deze bal eenmaal gaat rollen, mooie nieuwe verbanden kunnen worden gevonden.
"You can't have just a historian or curator narrating objectively in the third person, when you have witnesses of the history who can make their way through the museum itself"
Media bieden steeds meer mogelijkheden om bezoekers inderdaad te activeren en ze te laten bijdragen. Waar je 3 generaties geleden er op uit moest om verhalen te verzamelen is er tegenwoordig juist een overvloed beschikbaar. Wat Barton niet in zijn presentatie vertelt, is welke keuzes ze maken in hun ontwerpproces, en hoe selecties worden gemaakt. Hoe "goed" zijn de verzamelde verhalen? Hoe laat je deelnemers die geen verhaal willen vertellen participeren? En op basis van welke criteria worden keuzes gemaakt? Het is al met al een zorgvuldig proces. Uit eigen ervaring weet ik dat het niet altijd even gemakkelijk is om bezoekers te verleiden uit hun rol van bezoeker te stappen. Niet iedereen voelt zich daarbij op zijn gemak. Een goed participatief project biedt verschillende manieren waarop je kunt deelnemen. Nina Simon's boek "The Participatory Museum" biedt veel voorbeelden waar je, ook als je geen budget hebt voor dure multimediale installaties, mee aan de slag kunt.
Meer TED talks over participatie en musea: