Open content; informatie als betaalmiddel?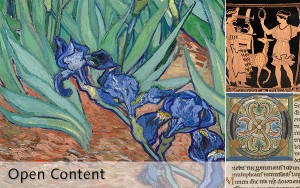 Inmiddels zijn er redelijk wat erfgoedinstellingen die hun collecties (of delen daarvan) digitaal beschikbaar stellen onder de noemer "open content". In Nederland zijn het Amsterdam Museum en het Rijksmuseum hier een goed voorbeeld van.
Op 12 augustus is het ook Getty Museum in Los Angeles gestart met wat zij noemen het 'Open Content Program'. In het kader van dit project stelt zij foto's van onder meer schilderijen, tekeningen en manuscripten gratis beschikbaar.
"The Getty adopted the Open Content Program because we recognized the need to share images of works of art in an unrestricted manner, freely, so that all those who create or appreciate art—scholars, artists, art lovers, and entrepreneurs—will have greater access to high-quality digital images for their studies and projects. Art inspires us, and imagination and creativity lead to artistic expressions that expand knowledge and understanding. The Getty sincerely hopes that people will use the open content images for a wide range of activities and that they will share the fruits of their labors with others."
De afbeeldingen kunnen gratis gebruikt worden onder vermelding van "Digital image courtesy of the Getty's Open Content Program", maar, en dat vind ik zelf nog veel interessanter, op voorwaarde dat je het museum inlicht over je plannen met het digitale bestand. Informatie delen dus. Zou hierin een 'verdienmodel' te vinden zijn, een inhoudelijk rijkere versie van crowdsourcing?
In de toekomst wil het Getty Museum meer afbeeldingen als open content aanbieden, waarbij ze zich niet zullen beperken tot de museumcollectie.