"The PCF is revealing the entire national collection of oil paintings in public ownership in the United Kingdom. It is a registered charity." .. en voordat ik op onderstaand project stuitte had ik nog nooit van deze club gehoord.
In principe gaat het om het toegankelijk maken van de 200.000 schilderijen, in eigendom van het Verenigd Koninkrijk, maar verspreid door het land en niet allemaal in publieke ruimte daadwerkelijk te zien voor iedereen. Toegankelijk maken in deze zin wil zeggen: fotograferen en via publicaties en een website zichtbaar maken voor het grote publiek. Dit onder de titel: "Your Paintings".
Nu is dit dus gewoon weer een variant van het virtuele museum, het collectieplatform, online objectdatabase of welke naam je ervoor kiest, maar waar ik het bij deze site specifiek over wil hebben is het taggers-project dat zij hiervoor in het leven hebben geroepen. Om de schilderijen ook doorzoekbaar te maken op informatie anders dan de gebruikelijke vervaardigingsgegevens vraagt de foundation het publiek om hulp. Ja klopt, dit is ook al vaker gedaan, maar zij hebben al maar liefst meer dan 7000 mensen aan zich weten te binden om deze taak te vervullen. En dat heb ik niet al eerder gezien.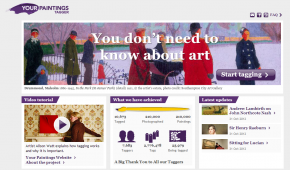 "The PCF (through the Your Paintings website) is asking the public to help it catalogue (or 'tag') paintings by subject matter online via the Your Paintings Tagger.
By looking at the paintings in detail, 'taggers' are be able to help generate useful subject classifications for each work and supply important keyword information including information about people, places and events shown in the painting. Algorithms ensure a high level of data reliability."
Ik denk dat dit hoge aantal voor een deel te danken is aan de PR die samenwerkingspartner BBC eraan wist te schenken. maar ook zeker de laagdrempeligheid van het CMS zal hierin een steentje bijdragen. Your paintings Tagger werkt met een uitermate simpel online systeem dat voor elke digitale leek prima te gebruiken is. Sterker nog, gebruik maken van het systeem kan hetzelfde effect hebben als het spelen van de bekende online games: verslaving.
De getagde data wordt in onderstaande stappen opgevraagd:
stap 1 – Things: What Things or Ideas can you see in this painting?
stap 2 – People, Can you name any People in this painting? (Is there a clue in the title?)
stap 3 – Places, What Places are shown in the painting?
stap 4 – Events, Does this painting relate to any Event? (Named events only)
stap 5 – Type, What Type of painting is this? (abstract, lanscape, portrait, seascape, still life, other)
stap 6 – Subjects, What Subjects do you see in this painting? (zoals: animal and plants, fashion and costume, ideas and emotions en vele anderen en allemaal met subgroepen)
Zes makkelijke en vooral snelle stappen, met een grote opbrengst voor de uiteindelijke zoekmachine en natuurlijk de uiteindelijke verbindingen tussen de werken onderling met de zelf bedachte trefwoorden van de tagger bij stap 1. Op de site is het systeem in een instructiefilmpje goed te zien.